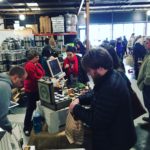 Pop-Up Raleigh grew out of a love of the nicked and the scratched, mixed with art from people we love. Travel to places and spaces around the South inspired us to create a vintage market right here at home in Raleigh, NC. Now in our fourth year, this market has become a home for everyone who loves giving old objects new life. We're growing this year with a new location and name, but our goal remains the same-to bring vintage collections together and sprinkle in some awesome local art for you to shop and enjoy.
Pop-Up Raleigh is produced by Tracey Johnson and Cynthia Deis.
About Tracey
Tracey is a Raleigh native and the brain behind Patina South, a collection of art and vintage. Her evolving inventory combines her love of painting and building with plundering through flea markets, estate sales and industrial history. When she is not traveling around with her vintage camper full of goodies, Tracey likes to relax at her mini farm-an hour west of Raleigh.
About Cynthia
Cynthia Deis was born in Ohio, but got to North Carolina as soon as she could. The former owner of Ornamentea, she lives in a tiny Raleigh house filled with collected and inherited vintage treasures. She prefers the used to the new, and likes objects with a story, even if she has to make it up. When it's not Pop-Up weekend she can be found on Instagram @cynthiadeiswrites.