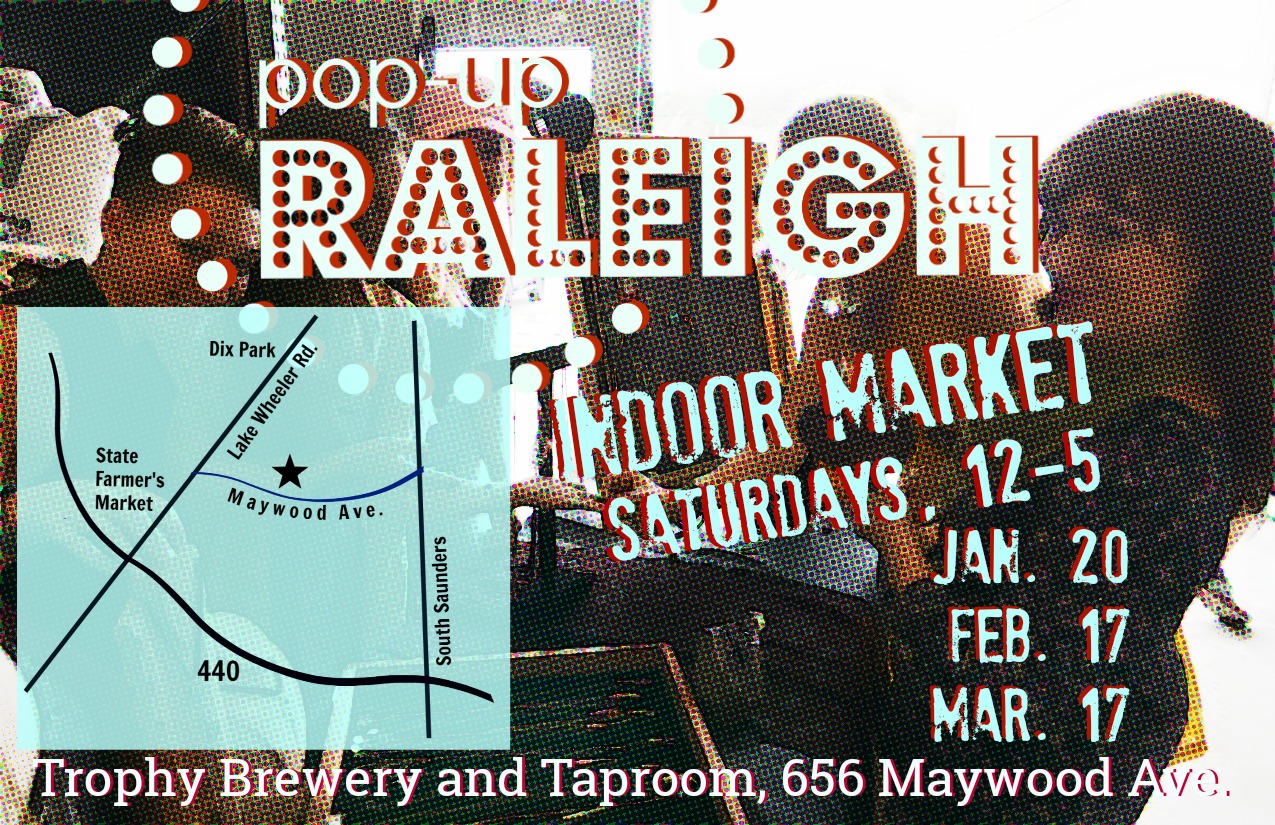 The 2018 Winter Series dates are:
January 20, 12-5
February 17, 12-5 (show is FULL!)
March 17, 12-5 (no longer taking applications)
Please read the FAQ below before applying!
The Spring Series application is HERE. We STRONGLY recommend filling it out on a laptop or desktop computer. Applications filled out on even the best phones and iPads can have glitches. Go visit the library if you have to, but use a 'real' computer. 
If you have already applied and need to submit an application fee, visit our Vendors Only page.
If you have already applied and need to adjust or edit your application, PLEASE use the link in the email you received from the first application. Please do not submit a second application. This confuses us.
---
FAQ
Are you ready to apply to Pop-Up Raleigh Market? Let's figure that out.
Read this page completely before proceeding.
Note, you will need a Tax ID to participate in the show.
Our upcoming show dates can be found on the show dates page. To receive further application updates, subscribe to our newsletter in the sidebar.
How can I apply? 
To apply to Pop-Up Raleigh you'll need to completely fill out our application. After you apply, go to the Vendors Only page and activate your application. We do not review applications without the activation fee.  We will review all applications within TWO WEEKS of receiving this payment. If you have not heard back from us 14 days after you've paid the application fee, please contact us at popupraleighNC@gmail.com. Please, do not email us before the 14 days have passed. We are carefully reviewing your application.
Read these FAQs before applying. We can answer other questions about the show via email at popupraleigh NC @gmail . com. Please don't send us Facebook or instagram messages with show questions, it's not the most timely way to get in touch with us.
Some FAQs-more info is on the application.
When is set up? Set up begins at 10 am. The Trophy Taproom and bathrooms are open at NOON.  The show hours are 12-5. All vendors are required to be set up from 12-5. We do not permit early break down. Please DO NOT break your booth down in any visible way before 5pm, no matter what your day is like.
What about food trucks? We love new trucks at Pop-Up! Email the fine folks at TrophyMaywood @ gmail . com to get your truck on the schedule.
What are the booth sizes and prices?
Indoor regular spaces are 5′ deep x 8′ wide space $65
Outdoor booths are 10'x10′ $65
Outdoor truck/camper spaces are available
Not all space sizes are available for all show dates. 
Power is available for a small fee and should be paid at the time vendor fees are paid. We do not provide tables, rolling racks, extension cords or a house elf to set up your space.
Must I have a tax I.D to participate?  Yes. You must have a valid state tax I.D. to participate in our market. This is a legal requirement from the NCDOR and we cannot make an exception.
What type of vendors are you looking for? Maybe you! We are seeking:
vendors for all categories of vintage goods; housewares, clothing, shoes, furniture, records, collectibles, lighting etc.
artists who make and sell their own original art work; painters, print makers, jewelers, etc.
craftspeople who make and sell original crafts – high quality candles and soaps, pots and clay work, woven crafts, wood crafts, original knitted items, original sewn items, etc.
designers and graphic artists who sell their work on items they don't make themselves; original artwork on tees, bags, cards, etc. especially NC-themed items
locally-based small businesses that sell the above and want to be part of the Pop-Up experience; galleries and boutiques that have a certain focus on NC-made or designed items
services or experiences that we feel are relevant to our visitors
Who reviews the applications? Tracey Johnson and Cynthia Deis, the Pop-Up Raleigh duo.
Why do I have to pay an application fee? Most shows require an application fee. We charge a very modest $5 fee that covers up to three shows. This allows us to be certain that applicants really do want to participate in our show and aren't just filling out applications for the fun of it. Reviewing applications and examining all the business information takes valuable time.
I've applied a few times and didn't get in. Should I keep applying? Before you fill out another application, please read this, or this.
This show is not for everyone, if you filled out an application a few times and we haven't yet included you in the show, ask yourself the following questions:
Do you have zero social media or web presence? No website, no Facebook, no instagram? We use those social media links to get to know you better, if we have no real idea of who you are, we won't invite you to the show. Come talk to us at a market if you need to, but we have to know who you are.
Do you sell crafts that you make from kits found at chain craft stores? Do your products LOOK like you made kits from chain craft stores?
Do you sell items at a price point that does not work for our show? We are a one-day show in a craft brewery, so super low prices or super high prices won't resonate with our visitors.
Do you have a bad reputation in the local vintage and craft scene? If you have walked out on previous shows, yelled at customers in a venue, smoked in your booth, cheated or scammed customers, had big fights with your boyfriend in your booth during a show or you are otherwise unprofessional, we have probably already heard about it. NC isn't that big. We show folks get around and your reputation will proceed you.
Do you do shows at other venues? Would you organize a show at my venue? Do you ever consult with shows? With over 40 years of combined experience in participating in and organizing shows – from wholesale-only national shows to small local shows – the Pop-Up team is always interested in helping new shows get off the ground. Email us and we'll set up a time to discuss your new show and how we can help.
SaveSave
SaveSave