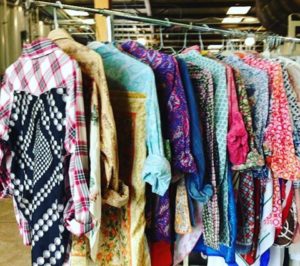 We are so excited about this weekend's market. We'll be tucked inside at Trophy Brewing on Maywood, surrounded by thousands of gallons of brewing beer. Our vendors include some of our most popular regulars + a few new vendors we are excited to introduce you to. This winter market is the perfect way to unwind after a morning in the gym, or your garden, or even if you've been marching with thousands of citizens to express your constitutional rights. A beer in the warm light of the brewery will feel really good!
Our food trucks this Saturday, in case you are hungry after a busy morning, are The Wandering Moose and Bo's Kitchen. The Moose serves the best in smoked meat, incredible mac-n-cheese and a spicy slaw, The slaw is not on the menu by itself, but trust us, you can order it that way. Bo's Kitchen is a truck specializing in Asian street food favorites. We are excited to have both these trucks here. Remember, the Winter Market hours are 12-6, so you can technically eat TWO meals here.
This month we are welcoming two new sponsors for the market: The House of Swank and Retro Modern Furnishings. We'll have profiles of each of them here on the site, but for now you should know that both of these Raleigh businesses are close to our hearts. The crazy duo behind House of Swank, Johnny Swank and Jessica (Mrs. Swank, herself!) are both devoted to the local creative scene. Their shop/studio on S. Bloodworth is filled with really rad Southern-themed tees and caps that don't shy away from making a political or philosophical statement. We are proud they'll be making our shirts for the market. They've given us a few House of Swank decals to hand out, so stop by the booth on Saturday and ask for one. Check them out here.
Retro Modern Furnishings is a very cool shop in downtown Raleigh that has at least fifteen pieces of furniture that will make you want to redo your entire apartment. The shop is stocked with a mix of authentic mid-century pieces (at amazing prices!) and contemporary art and furniture that conveys a modern feeling. We always fall in love with the rugs, but they also have some incredible lighting. Retro Modern has a long history with Pop-Up (the business started selling to the public with a booth at our market, years ago!) and we are so grateful for their support this year. Watch this space for an interview and lots of yummy pics of the Retro Modern look. You can check them out right here.
Check out our full vendor pics and links on our Instagram feed.