If you've loved vintage decor for any amount of time, you know that part of the thrill is the discovery. Any old fool can grab a Pumpkin Spice Latte and wander the aisles of Target and find a cute rug or a lamp. Not hard to do. As a matter of fact, that latte-drinker and ALL her friends can find that exact same rug and that exact same lamp. Because it's Target. Boring.
Finding a one-of-a-kind lamp? Or a rug that shows the years? That's a challenge that might just make you spill your latte. The hunt is the thing, though, isn't it? One of our favorite places to look for vintage anything is at SuzAnna's Antiques and Vintage Village.
When you arrive at SuzAnna's you see why they call it a Vintage Village. Outside of the main building is a cluster of small houses? cottages? bungalows? whatever you call them, you'll want to move in. Porches have vintage chairs, windowsills are hung with a cascade of twinkle lights. Some of the cottages have upstairs rooms, and all the rooms are filled with and decorated with incredible vintage furniture, rugs, clothes, lamps, books and more. Between the cottages, stacks of vintage doors, huge wooden columns and outdoor furniture create a neighborhood. You really will want to move in. Don't forget to go in the big shop, though. The entire building is filled with an incredible mix of everything, from every era, tucked into a delicious maze of rooms.
SuzAnna's is hosting a holiday open house on Thursday, December 1st. It will be full of beautiful goodies and so many people. Maybe in all the excitement, we really can move in…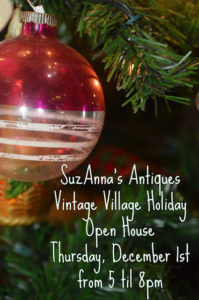 SuzAnna's is located at 9300 Durant Road in Raleigh. Check them out here on Facebook.