Here at Pop-Up HQ we lovelovelove a Southern-themed anything.
With one half of our dynamic duo an official, actual Southerner, and the other an enthusiastic migrant, we embrace the conflicting nature of modern Southernness. Neither one of us is a monogram-on-the-hairbow kinda gal, but we can talk for hours about bbq, old country houses, dogs, pick-up trucks and the weather. When we want to wear our hearts on our sleeves (or chests) we don't want to wear the usual, Southern-themed tees that involve pink-and-green chevrons and a mysterious mix of pineapples and labrador retrievers. You know the Southern tees of which I type; boxy and bright, with a mix of fonts and images that call to mind your Aunt Vera and her Alpha Delta Pi friends after too many GnT's at the lake. Our dogs are mutts and we only like pineapples in our salsa, we're more rusty junk than Southern prep.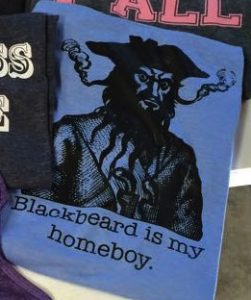 When we do want a Southern shirt, we like to look to House of Swank Clothing. How can we not love a company that features a shirt with Blackbeard (a true NC anti-hero) and the words Blackbeard is my homeboy? or one that breaks down NC into the true divide – the classic tomato/vinegar bbq conundrum? They have mildly offensive shirts (which we love) and shirts that will make your Auntie Vera spit pinot all over her deck shoes.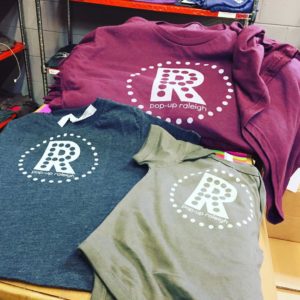 We recently visited House of Swank for a tour and pow-wow. They are now producing our super-cool Dottie R logo tee shirts. We like wearing this shirt to the market AND when we are roaming the back roads looking for rusty furniture. Our Dottie R shirts will be available at our markets, at the House of Swank store, and at a few retailers here in Raleigh. We hope to see you out in one someday!
The shop tour/shirt planning session was so much fun. Jess and John, the brains behind House of Swank, gave us a tour that involved tee-making demo where John insisted he didn't know what he was doing while simultaneously doing it and explaining how the shirt-making mystery machine works. There was a lot of ohh-ing and ahh-ing over some upcoming GLITTER tee magic, bonding with Jess over the way a girly shirt has to fit (not too tight but not like you are wearing a sleeping bag) and then a trip back in time as John brought out his original stencils from his first line of shirts. All the while there was a hum of actual work going on in the background, a dj checking out customers and a disco ball throwing sparkly light. After about seventeen hours, Jess kicked us out and banned us from the shop.
Just kidding, she joke-banned us. At least we think she was joking. She was joking, right?
You should check out the House of Swank shop if you get a chance. Located on South Bloodworth Street, they do have a real disco ball, a kayak in the corner and all your favorite new tee shirts.